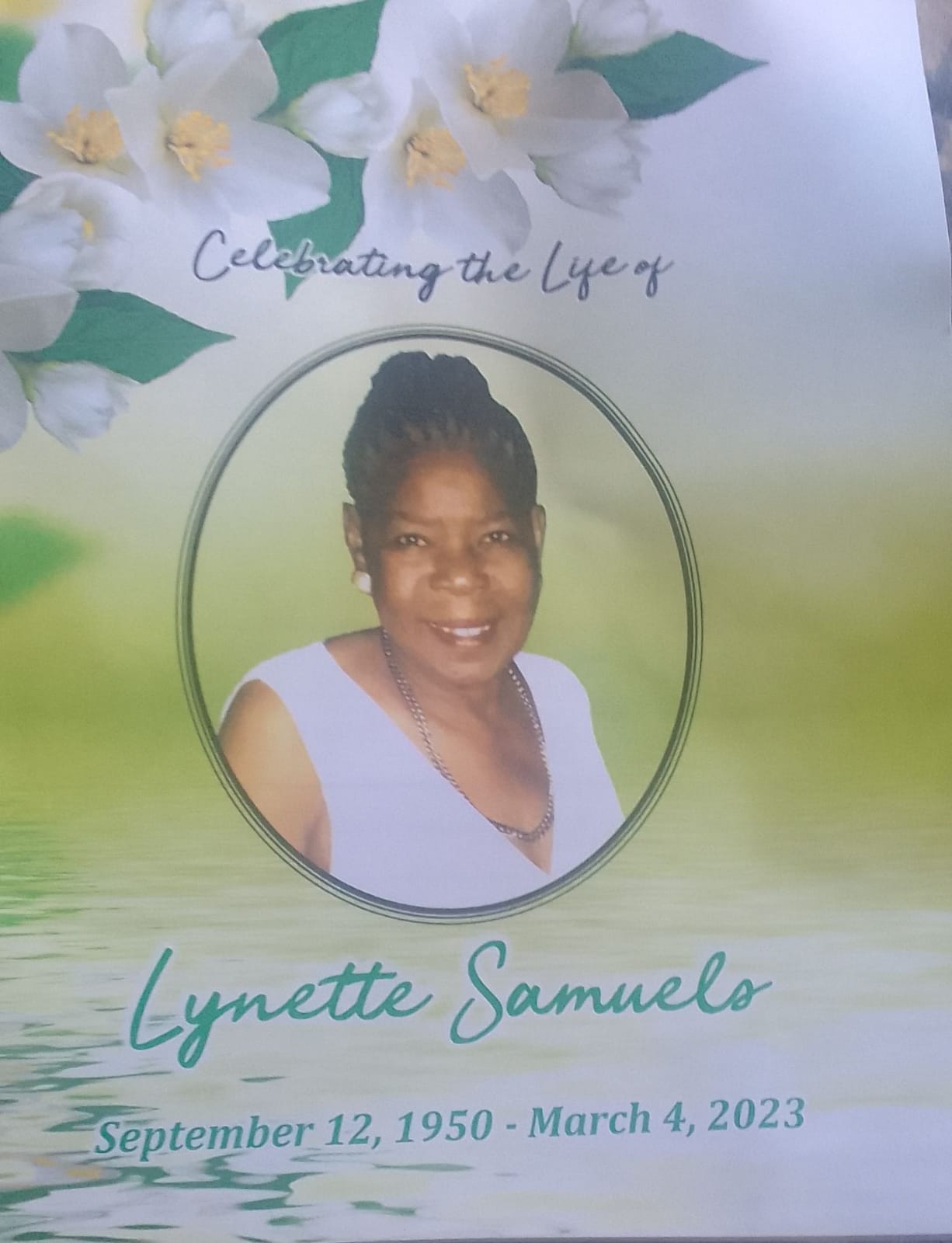 Lynette Samuels
September 12, 1950 – March 4, 2023
Celebrating the Life of (Lynette Samuels)
Obituary
September 12, 1950 – March 4, 2023
Lynette Samuels was born September 12, 1950, to the late Alvin and
Amy Clarke was the sixth of their eight children. She married the
late Arthur Reginald Samuels and from that union was blessed with her
first two pride and joys Rudolph and Wayne. Some years later she and
Lionel Smith was blessed with her third pride and joy, Andrew.
During her working years, Lynette had longstanding employment at the
Rosedon Hotel. In her years of working in the hospitality industry,
Lynette made many lifelong friendships, and anyone who has
encountered Lynette can attest that she was a reliable, conscientious,
and hardworking woman who took great pride in all she did. Not only
did she encompass the biggest brightest smile, but she had the heart to
match!
Christ Anglican Church
Middle Road, Devonshire, Bermuda
Saturday, March 18, 2023
2:00 p.m.

Order of Service
Officiant: Rev'd Fr. Jamaine 'Jay' Tucker, JP, M.Div
Organist: Mr. Larry Perinchief
Organ Prelude …………………………………………………………. Mr. Larry Perinchief
Processional…………………………………………………………………Clergy and Family
Welcome …………………………………………………..Rev'd Fr. Jamaine 'Jay' Tucker
Opening Hymn………………………………………………………….. Blessed Assurance
Opening Prayer………………………………………….Rev'd Fr. Jamaine 'Jay' Tucker
Scriptures: OT, Psalms 13: 1- 6…………………………………………….. Zuri Taylor
NT, John 14: 1 – 4………………………………………………. Zuri Taylor
Musical Selection ……………………….. Chantel Berkley – Take me to the King
Obituary ………………………………………………………………………………Zia Jennings
Musical Selection ……………. Desirae Simons & Dwight Warren – The Prayer
Words of Comfort……………………………………..Rev'd Fr. Jamaine 'Jay' Tucker
Closing Prayer……………………………………………Rev'd Fr. Jamaine 'Jay' Tucker
Commendation………………………………………….Rev'd Fr. Jamaine 'Jay' Tucker
Recessional Hymn……………………………………….When We All Get to Heaven
| Order of Services | Name/Person | Video Links | Audio Links | Picture Links | Live Stream Links |
| --- | --- | --- | --- | --- | --- |
| OFFICIANT | Rev'd Fr. Jamaine 'Jay' Tucker, JP, M.Div | | | | |
| ORGANIST | Mr. Larry Perinchief | | | | |
| ORGAN PRELUDE | Mr. Larry Perinchief | | | | |
| PROCESSIONAL | Clergy and Family | | | | |
| WELCOME | Rev'd Fr. Jamaine 'Jay' Tucker, JP, M.Div | | | | |
| OPENING HYMN | Blessed Assurance | | | | |
| OPENING PRAYER | .Rev'd Fr. Jamaine 'Jay' Tucker | | | | |
| SCRIPTURES | Zuri Taylor | | | | |
| MUSICAL SELECTION | Chantel Berkley – Take me to the King | | | | |
| OBITUARY | Zia Jennings | | | | |
| MUSICAL SELECTION | Desirae Simons & Dwight Warren – The Prayer | | | | |
| Words of Comfort | .Rev'd Fr. Jamaine 'Jay' Tucker | | | | |
| Closing Prayer | .Rev'd Fr. Jamaine 'Jay' Tucker | | | | |
| Commendation | .Rev'd Fr. Jamaine 'Jay' Tucker | | | | |
| Recessional Hymn | When We All Get to Heaven | | | | |
| Grand Kids Speak | Kids Speak | | | | |